We can all agree that sunscreen is absolutely necessary for long-lasting, anti-aging, happy & healthy skin. How do we choose between chemical  sunscreen is best for you? There are many factors that go into selecting which SPF is right for your skin like your skin's sensitivity, seasonal changes, and skin condition.  We wanted to educate and enlighten you on the sun's different types of rays and broad spectrum, physical/chemical sunscreen, and some of our various products and what they do for your skin.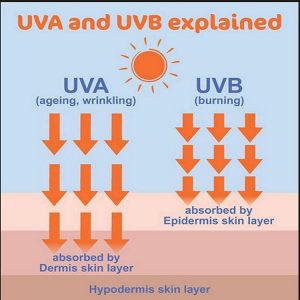 First off, the sun has two type of penetrating Ultraviolet (UV) rays.  UVA rays which cause aging, wrinkles and are absorbed by your dermis (second layer of skin) and UVB which causes burning and are absorbed by your epidermis (top layer of skin). We want to protect against both types of rays, this is why we use Broad Spectrum sunscreen. Broad spectrum sunscreen helps protect against both UVA and UVB rays, so keep that in mind when choosing your sunscreen.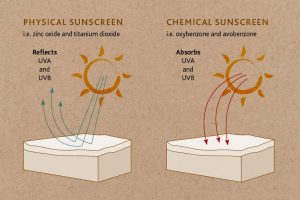 So, what is the difference between chemical vs. physical sunscreen and what is best for you?
One thing we do like to suggest when choosing a sunscreen is finding a sunscreen you cannot WAIT to put on in the morning. A sunscreen you love so that it becomes part of your daily routine. Some sunscreens have tint, others have an airbrush effect and others are hydrating  – whatever you end up choosing for your skin, make sure you LOVE IT! 
Physical sunscreen is also known as mineral sunscreen. Typically made of a zinc oxide or titanium dioxide, this sunscreen creates a barrier on the skin and the UV rays bounce off.  Physical sunscreen is naturally broad spectrum so prevents both types of rays from penetrating the skin, it also is great for sensitive skin as it may lessen skin irritation, and is great for individuals with "heat-activated" skin (ex. people with rosacea or redness).
At Accent Aesthetics we have a great variety of options for physical sunscreen to match your needs.  Here are some of our favorites:
Revision TruPhysical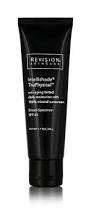 This tinted 5 in 1 anti-aging moisturizer has 100% mineral broad spectrum SPF 45 in it! It includes age-defying beneficial ingredients, reduces fine lines and wrinkles, 100% mineral SPF that protects against both UVA & UVB rays, firms skin, brightens and evens skin tone, enhances skin's natural moisture and lastly provides antioxidant benefits. This fully loaded extremely beneficial SPF speaks for itself when it comes to an excellent physical SPF option for your daily routine.
Elta MD – UV Elements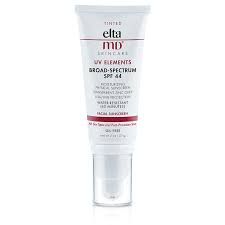 This 100% physical sunscreen in a tinted, moisturizing base. It is extremely gentle and great for the most sensitive skin types.  It combines both zinc oxide and titanium dioxide to provide safe sun protection.  The mineral-based UV filters work with ultra-hydrating hyaluronic acid to protect and hydrate the skin.
Colorscience Brush-On: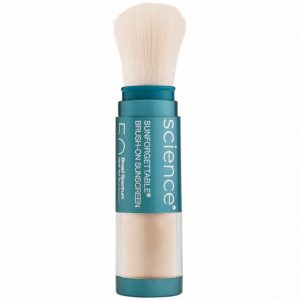 This super powerful, 100% mineral skin shield provides protection in an easy to use and convenient on the go application. It can go on alone or over makeup. It is a broad spectrum and protects against both UVA & UVB rays while giving you a nice even layer of protection against both sun and water.
Chemical Sunscreen, on the other hand, is absorbed down into layers of the skin and when UV rays make contact with the skin the chemical sunscreen absorbs the rays and disperses them as heat. This is the chemical process of protecting the skin. Chemical sunscreen comes in broad spectrum which protects against both UVA & UVB rays with a variety of options to help with anti-aging, oil-free hydration and acne control. Here are some of our favorites:
Elta MD UV Clear: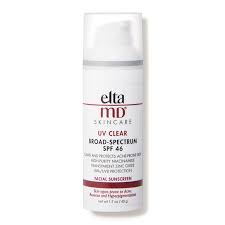 This oil-free SPF comes in either tinted or untinted options and is great for protecting and preventing sensitive skin types that may be prone to breakouts or skin redness (ex. rosacea).  It is lightweight and silky, it can be worn with makeup or without. It has antioxidant protection which helps combat aging while it leaves no residue it is great for calming the skin and prevents acne for sensitive skin.
Revision Intellishade: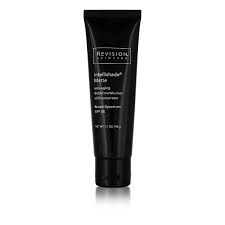 This matte or original tinted, sheer, award-winning moisturizer with sunscreen is formulated with peptides to reduce wrinkles, pore minimizing technology, fights premature aging and is broad spectrum which as you know, protects against both UVA & UVB rays.
Elta MD UV Daily: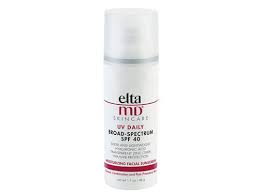 This superior hydration formula combined with the broad spectrum SPF protection that goes on sheer makes for a great daily addition to your routine. It is a lightweight moisturizer comes in both tinted or untinted and combats aging, increases skin smoothness/softness, and glides on easy so the skin absorbs it quickly.
As you can see, we have a wide variety of amazing options to benefit your skin. Of course, it is always great to set up a consultation or service with one of our dermatologist or skin care specialists/providers in order to see what your skin needs in this season of your life. If you have any questions, feel free to contact us or call us and we will be happy to assist in what ways we can!