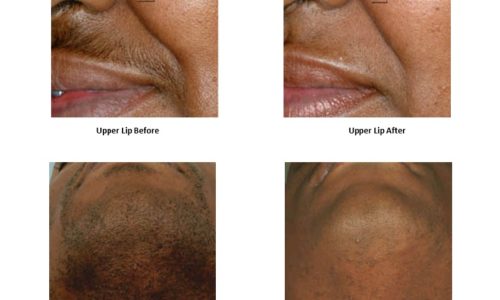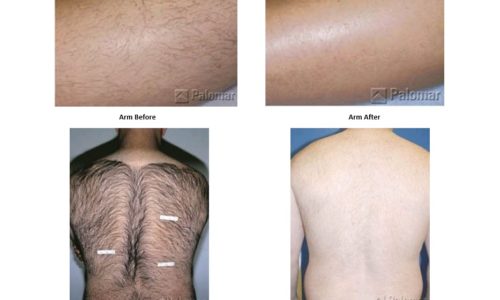 Laser Hair Reduction Information
Unwanted hair growth may appear on many areas of the body including the upper lip, side burns, chin, ears, chest, bikini, back, under arms and legs. Permanent hair reduction is available for all skin types, and most hair colors.
How does it work?
Lasers send a low-energy beam through the skin that is absorbed by the dark pigment present in the shaft of the hair follicles. Permanent hair reduction can only affect hair in active phases of growth so multiple treatments are needed to affect all your unwanted hair. Most people see up to 70% reduction after four treatments.
How do I prepare for the treatment?
On the day of treatment, the area should be clean, shaved and free of makeup.   Our laser has a cooled tip that lessens the patient's discomfort making the need for topical anesthetic less necessary.
Tanning during the course of laser treatments is not recommended and can lead to a number of complications. Patients should avoid direct sun exposure for 2 weeks after laser treatment, this includes tanning beds. We recommend sun block with an SPF of 30 or higher on the treated area during the course of the laser treatments with frequent reapplications. It is your responsibility to inform Accent Aesthetics if your skin is any darker than when treatment first started as settings may have to be changed.
What are the side effects?
Laser treatment can produce the following common side effects: mild, sunburn-like sensation, redness, swelling, welting (hive), itching, tingling, and dry skin. These side effects usually last from 2 hours to a couple of days. Less common side effects include: blistering, herpes simplex outbreak (if history of herpes simplex), bacterial infections, temporary skin lightening or darkening.
Who will perform the Laser Hair Reduction treatment?
Treatments are performed by our licensed medical aestheticians. Treatments require 15 to 45 minutes depending on area to be treated.
How often can I get a treatment?
You will need to have a treatment done every 4-10 weeks depending on area to be treated. We recommend a series of 6 treatments to achieve desired results. More treatments may be necessary depending on hair type, previous methods of hair removal and skin color.
How do I get started?
A brief consultation is required before performing Laser Hair Reduction. Occasionally the procedure can be performed after the consultation if scheduling permits. These appointments require that we schedule time, equipment, and personnel to perform your treatments. Therefore, if you need to cancel your appointment please do so within 48 hours. If you are late for your treatment session, you may have to reschedule your appointment. If you have any questions or would like to book an appointment or consultation, contact us, Call or Book Online Today.
Contact Us
To schedule an appointment, request more information, or other matters, please call our office.
Our Address
Conveniently located near I-70 in Golden, Colorado.
400 Indiana Street #380
Golden, CO 80401