Platelet Rich Fibrin (PRF)
PRF stands for platelet rich fibrin, and is the second generation, new and WAY improved version of PRP (platelet rich plasma). Our bodies have amazing healing and regenerative properties, and PRF seeks to take advantage of these. When used in aesthetics, it is an all natural way to reverse visible signs of aging.  We have ample information below, but if you have questions Call Us or if you're ready you can Book Online Today.
To begin, we have to draw your blood, as that is how we harness the healing properties within your own body. When blood is spun it is separated into layers based on density- red blood cells, white blood cells/platelets, and plasma. The majority of our body's healing capabilities lie in the white blood cell/platelet layer (buffy coat) and plasma layer. When we collect the plasma and buffy coat layers, that is called PRP or PRF depending on the tubes used to spin the blood (more on that below).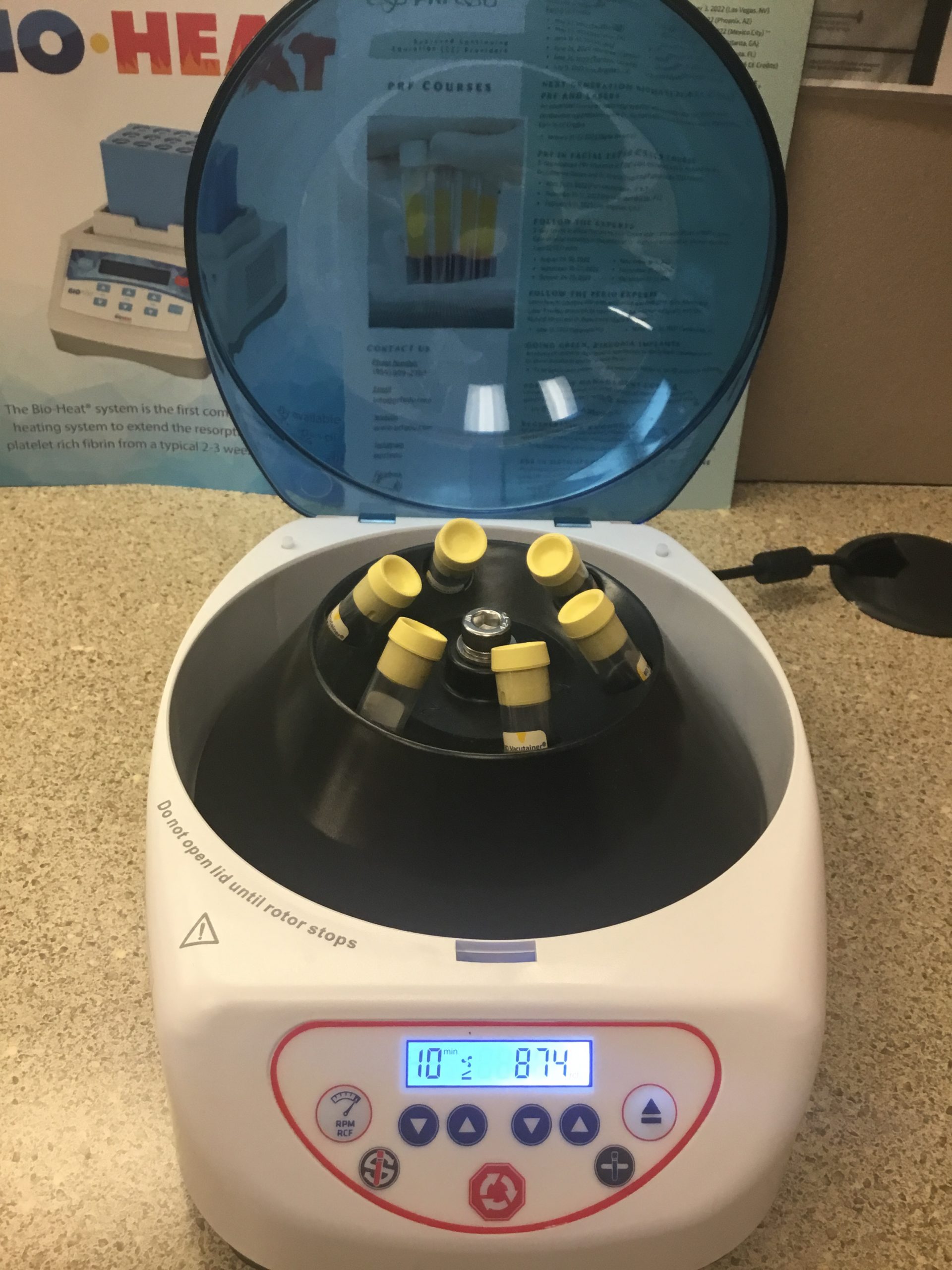 PRE TREATMENT GUIDELINES
The extent of PRF's outcomes rely on the quality and amount of growth factors, stem cells, leukocytes, etc that are found in your PRF. So to improve the quality of your own PRF we do recommend a few supplements prior to treatment. These include but are not limited to:
Turmeric
Vitamin C
Zinc
Antioxidant blend such as heliocare
Cease smoking as long beforehand as possible- toxins from smoking block response from stem cells which can decrease treatment effectiveness significantly
**Please drink plenty of water 2-3 days prior to treatment to ensure you are hydrated, as this makes for an easier blood draw**
WHAT TO EXPECT DAY OF TREATMENT
First, depending on treatment we will numb or ice appropriately. We will then draw your blood, and quickly place tubes into a centrifuge to isolate the PRF. PRF will then be collected and prepared to use. We will then use PRF as discussed (injections, microneedling, subdermal cannula, etc).
POST TREATMENT GUIDELINES
Microneedling
The treated area may look red & discolored with pinpoint blood speckles & bruising for up to a week.
Minor crusting, pinpoint scabbing & minor peeling is normal.
Keep the treated area clean and moist. Using the recommended cleanser, moisturizer and topical preparation.
Wash gently with tepid water. Blot dry. Do not wipe dry.
Do not shave the treated area for at least 24 hours after the treatment or if the area is inflamed or irritated.
Avoid any irritating medications or chemicals such as: Retin-A (Tazorac, Tretinoin, Differin etc.), Benzoyl Peroxide, Glycolic Acids or Astringents.
Avoid direct sun exposure after treatment. You must wear SPF 30 or higher daily after treatment.
Please notify us if you get cold sores! We may need to medicate you to prevent an outbreak.
If at any time during your healing process and afterwards, you develop small red bumps, pustules, or persistent redness and/or itching – please notify the office for further advice.
Filler/Cannula procedures
Avoid NSAIDs/Aspirin or other blood thinning medications and alcohol x 48h to reduce bruising.
Ice as needed for comfort and to reduce bruising
Arnica may be taken orally or placed topically to reduce bruising
Swelling, lumps/bumps, bruising, tenderness, unevenness, etc are all expected post procedure and typically resolve in 1-2w. Call if you experience any signs of infection, such as fever, chills, spreading redness/warmth, etc.
Do not massage or rub the area unless specifically directed by your provider (if doing HDR/PRF treatment, we advise and encourage a 3 min, 3 times per day, x 3 days post-procedure massage that will be discussed)
If you're ready for a truly all natural way to reverse and prevent aging and other aesthetic concerns, come in for a consult today so we can see what PRF can do for you!
More In-depth Description of PRF
The first step in our body's healing process is the formation of a fibrin clot matrix, followed by the recruitment of growth factors to help form new blood vessels, new cells, new collagen, and overall new healthy tissue. The half life of growth factors is very short, we are talking 6-8h, whereas a clot lasts a few weeks to a few months and releases growth factors continuously over that time period. So where does PRP and PRF fit into all of this?
The only meaningful difference between PRP and PRF is the tubes used to collect them. PRP utilizes tubes with anticoagulants, whereas PRF tubes have no chemical additives. Anticoagulants are chemicals that keep blood from clotting, which is great when we want to send your blood to a lab and it needs to stay liquid for a long time, but is the absolute worst if we are trying to utilize your blood for the healing properties, as the formation of the clot is the first and arguably one of the most important steps in the healing process! So because PRP tubes have anticoagulants, no clotting factors make it into what is injected- you only get the growth factors, which are beneficial, but again only last a few hours on their own. Not much time to aid in any sort of healing or regeneration. PRF tubes on the other hand have nothing in them, so you not only get the growth factors for immediate help but also the clotting factors, which again release additional growth factors slowly over the next few weeks for the full healing spectrum!
There are many ways PRF is used in aesthetics. It may be used as a liquid- injected directly into fine lines/wrinkles/other problem areas, microneedled into skin, or mixed with other products such as Radiesse or Sculptra. This may improve collagen/elastin formation, blood flow, healing of skin from inflammatory lesions such as acne, etc. PRF may also be heated and used as a solid (biofiller)- injected directly into areas where traditionally an HA filler (or other types of fillers) would be used to both improve volume and stimulate your body's own collagen/elastin response in that area.
Contact Us
To schedule an appointment, request more information, or other matters, please call our office.
Our Address
Conveniently located near I-70 in Golden, Colorado.
400 Indiana Street #380
Golden, CO 80401