For over 25 years, Revision Skincare has provided physicians with clinically proven, high-performing skincare products. Using only the purest, most efficacious ingredients, the Revision Skincare collection was formulated to provide targeted solutions for enhancing skin's appearance and reducing signs of aging.
Revision Skincare products represent the furthest advancements in scientific skincare. Our formulations are rooted in rigorous research and testing, and manufactured by us using the highest ethical standards. Revision Skincare products are never tested on animals.
While Revision Skincare is first and foremost about serious skincare, we are inspired every day by the positive effects our products have on people's lives.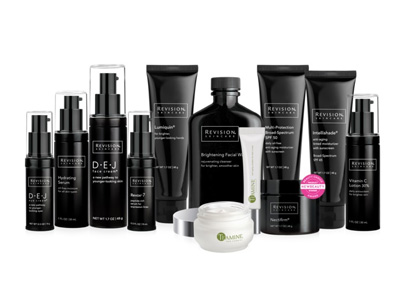 Revision Skincare Products:
Revision Brightening Facial Wash
Alpha and beta hydroxy acids and natural skin-brightening botanicals help exfoliate and brighten the skin. This rich, luxurious cleanser removes the day's make-up and impurities, leaving skin feeling clean, smooth and hydrated. Ideal for all skin types.
Revision Papaya Enzyme Cleanser
This refreshing cleanser with Papaya Fruit Extract leaves skin smooth by lifting away impurities. The Papaya Fruit Extract contains Papain, an enzyme that gently exfoliates for naturally vibrant skin. Ideal for all skin types.
Purifying Cleansing Gel
Highly concentrated face wash deeply cleans pores and removes oil and impurities. Oily skin has a cleaner, more matte complexion thanks to Lactic and Salicylic Acids that exfoliate and clarify skin.
Revision D.E.J. Face Cream
Combines a unique combination of ingredients for proven anti-aging results. Hydrates, brightens, firms and smooth's skin.
Revision Hydrating Serum
This 100% oil-free serum contains an ultra-light texture that instantly absorbs into the skin.
Revision Nectifirm
Formulated with powerful peptides and other anti-aging ingredients specifically for the skin on the neck. Firms and tightens; reduces appearance of adipose tissue under the chin; lessens look of lines and wrinkles; helps to smooth away crepiness and roughness.
Revision Firming Night Treatment
This peptide-rich, age-defying cream provides intense short and long term moisturization while you sleep. Rehydrates, replenishes and brightens dull, dry skin.
C+ Correcting Complex 30%™
Reveal a brilliant glow, a more even skin tone and a more youthful appearance. Infused with our patent-pending MelaPATH™ technology that illuminates, refines, and rejuvenates, C+ Correcting Complex 30%™ defends and corrects the skin-damaging effects of free radicals generated by Urban Dust and High Energy Visible light (HEV or blue light).
Revision Vitamin C 30%
This Vitamin C Lotion is formulated with the newest, highly stabilized form of Vitamin C (THD Ascorbate) for healthy, radiant skin. This 30% formula contains one of the strongest concentrations of Vitamin C available. Brightens dull skin, reduces appearance of fine lines and wrinkles, moisturizes and conditions skin.
Revision Intellishade SPF 45 (Tinted)
Sheer, mineral tint for radiant skin. Breakthrough peptides reduce the appearance of fine lines and wrinkles. Light weight; superior hydration. Comes in both Original and Matte finish.
Revision Intellishade Clear SPF 50
A 4-in-1 daily anti-aging untinted moisturizer with broad spectrum SPF 50 that corrects, protects, brightens and hydrates skin with an oil-free, lightweight formula.
Revision Finishing Touch Scrub
Contains Polynesian volcanic black sand and ultra-fine pumice for great exfoliation Contains freshwater silt to nourish skin and help absorb toxins. Leaves skin feeling clean, smooth and moisturized.
Revision Pore Purifying Clay Mask
This purifying yet non-drying facial treatment deep cleans skin ridding it of impurities, excess sebum and other toxins. Natural exfoliators leave skin looking polished and smooth. Leaves skin hydrated and soft.  Ideal for all skin types.
BodiFirm™
Because skin on the body is fundamentally different from skin on the face and décolletage, we created BodiFirm™, the first Revision Skincare product specifically formulated to address skin concerns on the body. This clinically-proven formula with patent-pending iFirm™ Technology was designed to help visibly firm, tighten and lift sagging, crepey skin in order to sculpt and tone the body.
Revision D.E.J. Eye Cream
Advanced ingredients work cohesively to create clinically proven results. Helps to firm, moisturize, reduce lines & wrinkles and brighten skin.
Revision Teamine Eye Complex
Specifically formulated with Teamine to reduce the appearance of dark circles, puffiness, fine lines and wrinkles.
Revision Retinol Complete
Formulated with high levels of pure, time released Retinol to reduce the appearance of fine lines and wrinkles; brightens, plumps and smooths skin's texture. Contains a blend of antioxidants to hydrate the skin. Available in .5% and 1.0%. Use this product at night only.
Revision Youthful Lip Replenisher
Renews youthfulness with a scientifically advanced formula that targets the visible signs of lip aging. This proprietary formula replenishes the appearance of youthful volume and contour. Potent antioxidants defend against environmental stressors. Hyaluronic Acid delivers immediate and intense hydration to help lips look fuller and more youthful.
Revox Line Relaxer
An advanced, targeted serum specifically formulated to work synergistically with a neuromodulator. This breakthrough formula utilizes patent-pending technology to not only help optimize in-office treatments, but also to deliver clinically-proven benefits on its own.
DEJ Daily Boosting Serum
A powerhouse serum formulated with patent pending Sunflower Sprout Extract Technology that has been clinically proven to impact the effects of glycation on skin.
Help protect the skin's energy source
Support skin's natural collagen and elastin so the appearance of skin firmness and elasticity can be maintained
Improve the overall appearance of photodamage that include more noticeable wrinkles, loss of skin elasticity, rough skin texture and uneven skin tone
Strengthen the skin barrier
Contact Us
To schedule an appointment, request more information, or other matters, please call our office.
Our Address
Conveniently located near I-70 in Golden, Colorado.
400 Indiana Street #380
Golden, CO 80401