MICRO-NEEDLING!!
Microneedling is one of our FAVORITE treatments here at Accent Aesthetics in Golden, CO. It's one of those treatments that benefit almost everyone and sooo many skin conditions and concerns!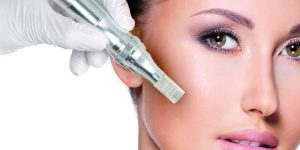 HOW DOES MICRO-NEEDLING WORK?
First, we use a device with either 12 or 36 tiny, hair-thin needles to "stamp" the skin at a controlled depth. The number of needles and depth we choose depends on the skin type, condition and concern. This creates tiny micro-wounds in the dermis (lower level of the skin), causing pin point bleeding. ( YES, you will bleed and NO, you won't die.) Check out our Instagram and Facebook pics and videos! @accentaesthetics1
By creating these micro pin-point insertions, we stimulate your skin's own, natural healing process which creates new, healthy, undamaged cells and also COLLAGEN. Collagen is everything and what we want more, more, more of!! Collagen plumps and thickens the dermis, smoothing out the top layer of the skin called the epidermis.  This process reduces and softens fine lines and wrinkles, diminishes acne scarring and large pores and also helps lighten hyperpigmentation or dark discoloration of the skin caused by sun damage, hormonal changes, acne,  etc.
BENEFITS FROM MICRO-NEEDLING:
Reduces fine lines and wrinkles
Lifts, tightens, rejuvenates
Minimizes pore size
Improves the appearance of stretch marks
Lightens the appearance of scars
Softens the appearance of acne scarring
Smooths rough skin texture
Brightens and evens skin tone
WHAT HAPPENS AFTER TREATMENT?
Most patients have a moderate to severe looking sunburn similar to patients who have experienced chemical peels. This may cause your skin may also feel warmer and tighter than before. This is normal and usually subsides after 4-6 hours. Few people may experience bruising, mostly on the bony prominences of the face such as orbital bones, forehead and jawline. Most patients have a full recovery within  2-5 days. You may experience dry, flaky skin – all of this can be expected. Your aesthetician will recommend a post procedure regimen to aid in the healing process.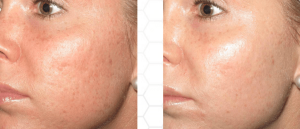 Our micro-needling treatments are just one of MANY treatments we offer here at Accent Aesthetics to help you achieve your skincare goals.
If you are interested in learning more, we would love to set you up with a consultation or feel free to call us!