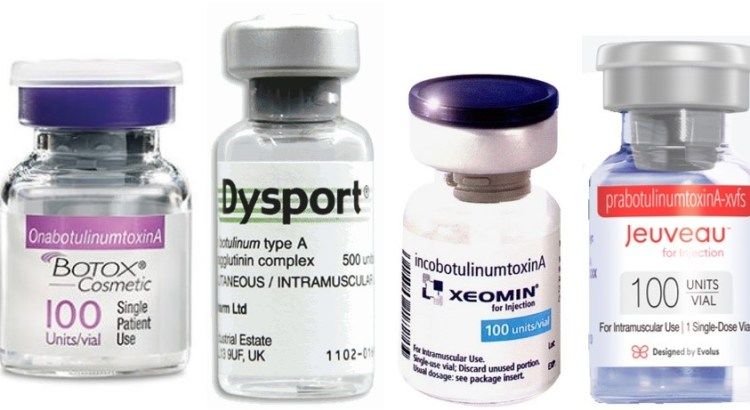 Different Types of Botox
At this point most people have heard of Botox, but did you know that this is just one of many different types of botox brands we call neuromodulators or neurotoxins?
Neuromodulators are the umbrella term for any product that utilizes botulinum toxin to temporarily relax a target muscle in order to prevent and sometimes treat fine lines and wrinkles. Botox has come to be the household name for neuromodulators, but other common brands include Dysport, Jeuveau, and Xeomin. What's the difference between all of the brands or types of botox and which one is right for you?
Formulation
The biggest difference between brands is the form of botulinum toxin that is used- Botox is made of onabotulinumtoxinA, Dysport is abobotulinumtoxinA, Jeuveau is another form of botulinum toxin type A, and Xeomin is incobotulinumtoxinA. At the end of the day, all of these forms are effective in relaxing muscular contraction, so all will help to reduce the appearance of fine lines and wrinkles. However, there are some slight nuances that arise due to the different formulations.
Onset and Duration
According to the International Association for Physicians in Aesthetic Medicine (IAPAM), the average onset of Dysport is 3 hours, Botox is 72 hours, and Xeomin is 96 hours. In practice, most people notice the results of Dysport and Jeuveau within 3-7 days post injection, while Botox and Xeomin are typically noticeable after 1-2 weeks. For all products, dose = duration, meaning that the higher the dosage used, the longer the results can be expected to last (within reason). The average duration for most people is between 2-5 months.
Resistance
While rare, some people may develop a tolerance or resistance to neurotoxins due to the creation of antibodies. A person's immune system may identify the ingredients used in these injections as being a foreign invader, so it responds by producing antibodies that neutralize their effect. While resistance can occur with any of these four types of injections, it's most common with Botox and Dysport. Botox and Dysport contain additives that can "irritate" the immune system and, thus, trigger the creation of antibodies.
Xeomin, on the other hand, consists solely of botulinum toxin, so it's less likely to cause resistance than its counterparts, however there still have been reported cases of tolerance to xeomin. This has led researchers to believe that it might be the actual botulinum toxin causing antibody formation instead of, or possibly in addition to the additives, however the jury is still out on that. All in all, only about 1 in 100 people who receive a neurotox injection will develop a resistance to it.
Dosage and Pricing
Dosage will vary from person to person, however you can typically expect that you will need 2-3 times the number of units of Dysport as you would with Botox, Xeomin, and Jeuveau. Botox is usually the most expensive per unit as you are paying for the brand, and Jeuveau is usually the most cost effective. Evolus, the company that produces Jeuveau, was able to achieve a lower price by focusing its FDA approval specifically on cosmetic applications for its product, whereas Botox is approved for both medical and cosmetic purposes.
At the end of the day, all four products are FDA approved and all work well to help reduce and prevent fine lines and wrinkles. Come in for a consult today to help decide which brand could be the right fit for you! types of botox types of botox types of botox types of botox