Wondering what to expect at your next neurotox appointment?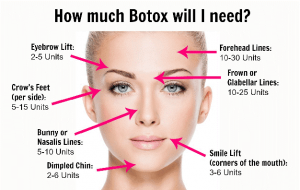 First, we will discuss which product you want to use factoring in price, look/feel, onset time, etc. Next, we will take before pictures to help track your progress. Then, we will go over the consent and have you sign it. Finally, I'll take a look at your movement to help determine how many units are needed per spot. Then we ice, and inject!
The biggest thing to remember is that just because a number of units worked for you one time does not mean that same number will work again. Multiple studies have been done showing that dose = duration, meaning the higher dose we use, the longer the product will last. Results can last anywhere from 3-5 months.
Knowing the average number of units used per treatment site can help give you an idea of pricing beforehand, but just know that everyone is different and these numbers are not hard and fast rules. Here's a few averages for the most common areas: "11s" need anywhere from 10-30 units, the forehead needs 10-30 units, and crow's feet need 4-15 units per side. Remember that Dysport is dosed a little differently than Botox and Jeuveau, but it roughly comes out to 2-3x the number of Botox units.
Have any other questions about neurotoxins or other injectables? Schedule a consult so we can find the perfect dose for you!