What is Ozempic Face?
The Ozempic face hashtag is trending, with 4.5 million views as of mid-February.  The term "Ozempic face", coined by Paul Jarrod Frank, MD, a New York City dermatologist, refers to a side effect of the Ozempic drug, and of rapid weight loss in general: facial aging, including gauntness and skin sagging.
Significant weight loss in a short time period depletes the skin and body of essential nutrients and can disrupt the endocrine and GI system balance. The skin thins, and loses its elasticity and luster from sudden and rapid depletion of the essential fatty acids that make up the skin barrier function. Its collagen and elastin metabolism is also disrupted, resulting further in sallow, dull, thin skin. Loss of volume, or fat, in the cheeks — also follows rapid significant weight loss.
The skin changes are primarily from nutrition and vitamin depletion over a short period of time. Fat is reabsorbed and atrophies, furthering the aged, gaunt look.
One of the most common things we notice with any form of weight loss in middle-aged and older patients is we don't all lose it in the areas we want. When we get older, the facial volume changes and shifts around. But when you lose weight so acutely and quickly … we're seeing these types of changes in their face where it's actually making them look older.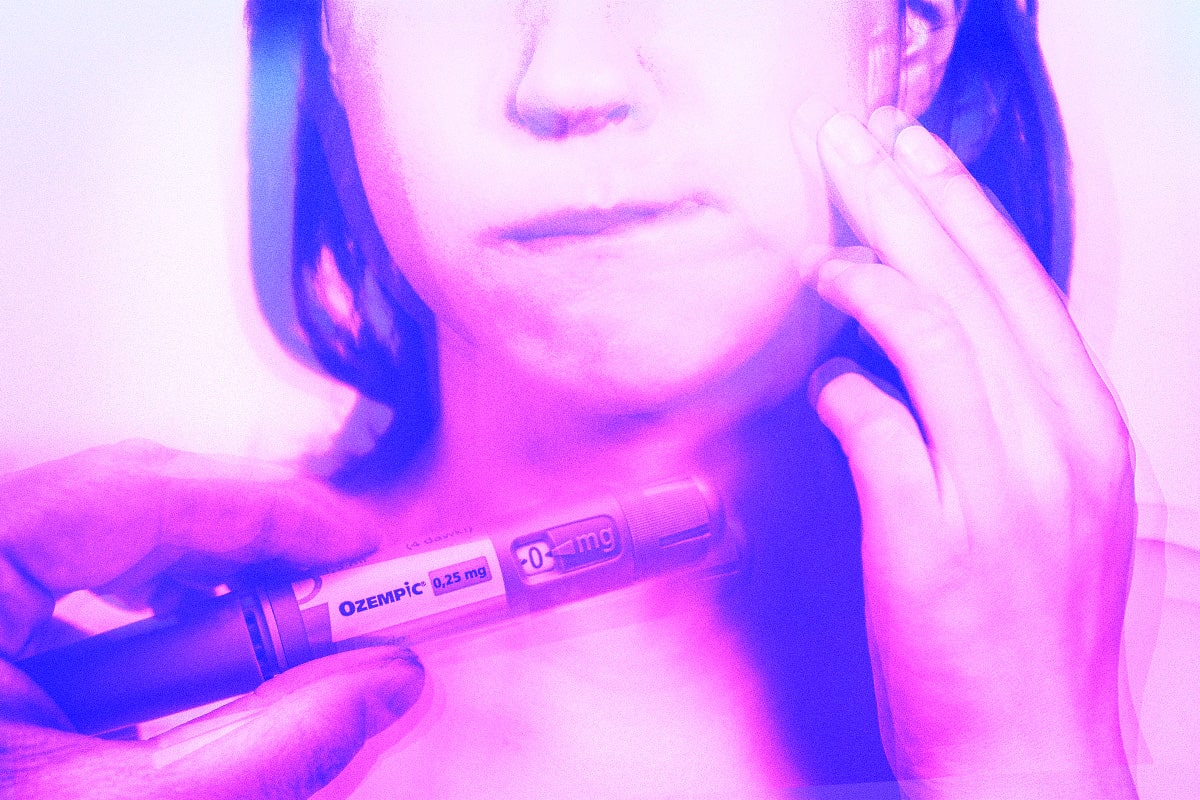 What Can be Done to Treat and Prevent Ozempic Face?
Prevention is always easier than treatment. So if you've just started your rapid weight loss journey, start preventative treatments ASAP.
Ultherapy
When a clients main concern is skin laxity and sagging, Ultherapy is at the top of the recommendation list. Ultherapy uses focused ulthrasound to stimulate collagen and elastin at very specific depths in the skin. Depths that typically only a surgical face lift can reach. As these proteins in the skin are created, over several months, the skin is lifted and tightened. Ultherapy is excellent  for both treatment AND prevention of skin aging.
INTRAcel RF Microneedling
INTRAcel™ Microneedling is a skin-tightening and rejuvenating treatment that combines two minimally invasive techniques: deep dermal micro-needling and radio frequency (RF) skin tightening.
INTRAcel treats sagging skin, fine lines and wrinkles by stimulating the production of collagen. The radio frequency doesn't reach as deep as Ultherapy heat but is excellent for tightening and retexturizing the skin as well.
This innovative technology continues to improve the quality of your skin long after treatment. 
Fillers
Dermal fillers are one of the most effective and instant fixes for loss of volume as a result of facial weight loss. There are many to choose from and the outcome does rely on going to an experienced injector.
HA Filler aka hyaluronic acid filler will plump an area right away then continue to draw water to it to keep an area plump. These types of fillers can last anywhere from 6-18 months depending on the type used.
Biostimulating fillers such as Radiesse and Sculptra stimulate collagen over several months, 12-24 months.Though they do take some time, and a series of treatments for best results, they are producing your own, natural proteins, turning back your skins' clock.